Exotics vet performs intricate surgery on goldfish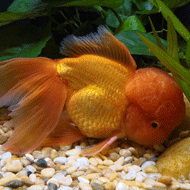 Thirty-minute surgery carried out to remove tumour on jaw

An exotics vet based in Swindon has performed intricate surgery to remove a tumour from a goldfish's jaw.

Six-year-old fish Eric (not pictured) was taken to the Great Western Exotics practice by his devoted owner Katja Serrer-Fort.

Dr Tariq Abou-Zahr anaesthetised Eric and performed the painstaking 30-minute surgery.

He explained: "We put a tube into the fish's mouth to deliver oxygenated water and anaesthetic over the fish's gills to keep it asleep.
"Clearly, a very small creature like this won't have a lot of blood in its system so we had to keep the blood loss to an absolute minimum. We used electronic forceps to control the fish's blood loss during the operation. We were very pleased with the results of the procedure."

Eric is a long oranda goldfish, a breed that has a bubble-type hood on its head called a wen. In Eric's case, the wen had grown over his eyes blocking his sight. During the surgery to remove his tumour, Dr Abou-Zahr also trimmed back the wen to help Eric to see again.

Dr Abou-Zahr said it was a very unusual case. He has operated on only three or four goldfish in the course of his career.

Eric was able to return home as soon as the anaesthetic had worn off. The tumour was sent to pathology, which confirmed the it was non-malignant.

Commenting after the surgery, Katja said: "I know people might think this is a lot of trouble to go to for a goldfish. But I don't see it that way. If you had a dog or a cat then they would be part of your family. Well, it's the same with Eric.

"We've had him for six years. He's part of our family and I wanted to do everything I could to keep him alive and help his quality of life."
Image by Lawrencekhoo/Wikimedia Commons/CC BY-SA 4.0