Tiger dies after fight with two others at Longleat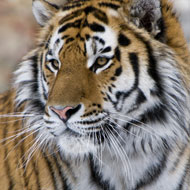 News comes just days after death of London Zoo tiger
An Amur tiger has died at Longleat Safari Park after a fight with two other tigers.

According to the park, its 13-year-old female tiger, Shouri (not pictured), gained access to a paddock where two other tigers, Red and Yana were waiting to be let into the main enclosure.

The incident occurred during the process of moving the animals between the outdoor paddocks. A door connecting two areas was opened, meaning Shouri gained access to the same area as Red and Yana.

Longleat said the park was not open to the public at the time of the incident and the other two tigers were unharmed. A full investigation is being carried out to determine the exact circumstances.

Red and Yana arrived at the park last year as a breeding pair. Whilst they have shared an indoor area with the zoo's two older female tigers, the two groups are not mixed.

Longleat said in a statement: 'It is with deep sadness that we announce the death of one of our female Amur tigers, Shouri, who has passed away following a fight with two of our other tigers here at the park.

'The dedicated team of keepers who care for our big cats are, understandably, extremely distraught by the events and we are doing everything we can to help and support them.'

The news of Shouri's passing came just days after the death of London Zoo's Sumatran tiger, Melati, who was killed by a potential mate when they were introduced for the first time. The zoo said it was 'heartbroken' by Melati's death and had closed Tiger Territory while the team focus on caring for its new male tiger Asim.