Goats to help prevent wildfires in Nevada City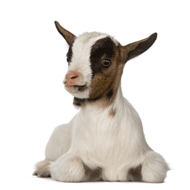 City council seeking goats to graze greenbelt
Nevada City council is seeking funds to get a cohort of goats to graze over 450 acres of greenbelt, in a bid to reduce the risk of wildfires.

A GoFundMe page has already garnered over $20,000 out of the $30,000 target.

Goats will graze on bushes, trees and manzanita, while sheep graze on grass.

The move comes after unprecedented fires in California, particularly Paradise. However, time is of the essence, as local ranchers have already rented out their goats and sheep for the spring, summer and autumn, so the project must be carried out this winter.

Prescriptive grazing can cost $500-$1,000 per acre and around 200 goats can knock down an acre a day. The council is prioritising where the risk is at its highest.