Study reveals extent of chelonian extinction crisis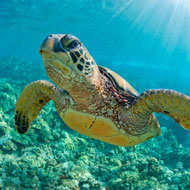 Researchers call for greater conservation efforts
More than 56 per cent of all known turtle and tortoise species are facing extinction, according to the first global review of chelonian species.

The paper, published in Chelonian Conservation and Biology, reveals that of the 360 recognised turtle and tortoise species, the risk of extinction is highest for Asian turtles. This is despite there being a rich diversity of species in the region.

Researchers also found that Asian freshwater and semi-terrestrial turtles of the Geoemydidae family face the greatest risk compared to other Testudines species. Of the large vertebrate group, only primates have a higher percentage of threatened species.

"Turtles are in terrible trouble and we need to mobilize even greater international efforts to prevent many of them from slipping into extinction," said researcher Anders G. J. Rhodin.

"As a response to this impending turtle extinction crisis, over the last few decades, we have seen the emergence of several turtle-focused NGOs [nongovernmental organisations] and the growth of an increasingly engaged international turtle conservation community. This article should continue to raise global awareness of the precarious conservation status of many of these animals."

In the study, researchers from the International Union for Conservation of Nature (IUCN) analysed official and provisional assessments of all recognised tortoise and freshwater turtles - around 360 species. The team looked at the current official IUCN Red List and a provisional list compiled by the IUCN specialist group to ensure a thorough analysis.

Researchers then created species richness lists for turtles in several regions of the world, calculating percentages of imperilled species and determining average threat levels for these species. They then compared their results with those for other threatened vertebrates.

It is hoped the assessment will help those undertaking research, designing conservation policies and launching strategic actions to help chelonian populations.