Ford develops noise-cancelling kennel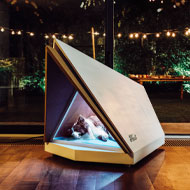 Kennel could protect pets from the sound of fireworks

Car maker Ford has developed a noise-cancelling kennel that can protect pets from the sound of fireworks.

The kennel uses similar noise-cancelling technology to that found in cars and headphones. Once microphones inside the kennel detect the sound of fireworks, a built-in audio system emits opposing frequencies that cancel out the noise.

Inspiration for the idea arose from technology that exists in Ford's Edge SUV. When its microphones detect noise from the engine, the noise is counteracted using opposing sound waves from the car's audio system - making the journey quieter for drivers and passengers.

"We wondered how the technologies we use in our cars could be applied to help in other situations," explained Ford of Europe's Lyn West. "Could dogs enjoy quieter New Year's Eve celebrations through the application of our Active Noise Control system?
"We have a few more ideas in progress as to how our everyday lives might benefit froma little Ford know-how."

The kennel is only a prototype but is the first in a series of initiatives that will apply automotive knowledge to help solve everyday problems.

Image (C) Ford of Europe.