Audible launches series of books for dogs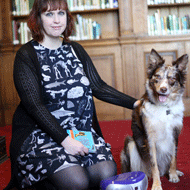 Research finds audiobooks have a calming effect
Audible bas published a series of books designed to have a calming influence on dogs, after recent research by Hartpury University.

Researchers studied the behaviour of 31 dogs living in a rescue shelter, comparing the impact of audiobooks, classical music, pop music, music designed for dogs and no sound at all.

Dr Tamara Montrose said: "The study suggests that exposure to audiobooks can enhance the welfare of kennelled dogs due to their calming influence on dog behaviour.

"Use of audiobooks provides a simple yet practical tool that can be readily used in many kennel environments to enhance dog welfare and potentially increase the likelihood of successful rehoming of dogs."

Audible said the research had inspired its range of audiobooks for dogs, which include the classics, Peter Pan by JM Barrie, Jane Eyre by Charlotte Brontë and David Copperfield by Charles Dickens. It is hoped the books will help to calm dogs when they are home alone.