Dog employed as therapist at Bromley school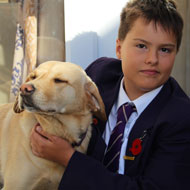 Selkie helps students through difficult times

A head teacher's pet dog has become an honorary member of the teaching staff at Bickley Park School in Bromley, after showing promise as a therapy dog.

Four-year-old Labrador Selkie helps children who suffer from cynophobia, or fear of dogs, and acts as a talking therapy provider for those who need extra help in difficult times.

Charlie, who is in year eight, lost his mum last year and in the week after she passed away he would arrive at school early every day to see Selkie.
He says he found her very calming and liked the way she treated him as a special friend - whenever he feels down she is always waiting in the office for him.

Patrick Wenham, head teacher at Bickley Park School, said: "Dogs are often referred to as man's best friend but for those who have a genuine fear of encountering them, life can be very difficult.

"Selkie has always been heavily involved in the school community, and having her present is proving invaluable for those who have a fear to overcome or those that just need to trust someone who won't pass judgement.

"Research has shown that stroking animals has a positive effect on mood, and can help relax and soothe people. Selkie is a very calm, good-natured dog who is happy to take the role of pupil therapist. She is looking forward to helping more children in any way she can."