Australian vets treat anteater for ant allergy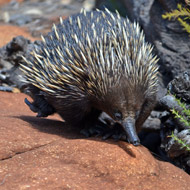 Echidna in recovery after receiving allergen-specific vaccine
Vets and keepers at a zoo in Australia are celebrating after successfully treating an echidna who was found to be allergic to ants.

Ants are an echidna's main source of food, so staff at Healesville Sanctuary, Victoria, were surprised when one of their spiny residents had an unusual reaction to them.

The echidna, named Matilda, was first presented to the sanctuary in 2010 after she was accidentally dug up from her burrow. Thought to be around three months old, she would have just started eating termites and ants.

Keepers became surrogates to Matilda as she had not been weaned, and she soon settled into her new environment. But at two years old, the skin around her eyes started to look a little inflamed.

The keepers provided topical treatments and cleaned the eyes but, after a noticeable spread of the inflammation, Matilda was transferred to the Melbourne Veterinary Specialist Centre for allergy testing.

To determine the cause of the inflammation, specialists injected a range of know antigens under Matilda's skin and observed her for reactions. Once ants were identified as the cause, specialists got to work on developing an allergen-specific vaccine that was unique to her. She then underwent a period of 'desensitisation'.

'Matilda's treatment plan required her vaccine to be given in small, regular doses, exposing her to enough of the allergen to cause an immune response but not so much that it would cause an adverse reaction,' a spokesperson for Healesville Sanctuary explains. 'In short, Matilda's immune system was being trained to learn how to manage and respond to the identified allergens.

'While time-consuming, this process of desensitisation has been highly effective and become a lifelong solution for Matilda's allergies.'

Matilda responded well to the treatment and has now been vaccine-free for six months. Thought to be the world's first allergic echidna, keepers are optimistic that she will now go on to live a long and allergy-free life.