DNA testing scheme for basset hounds approved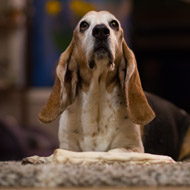 Scheme will test for primary open angle glaucoma
A new DNA testing scheme for primary open angle glaucoma (POAG) in the basset hound has been approved by the Kennel Club.

POAG is a disease caused by a small increase in fluid pressure within the eye and can lead to blindness. It is normally seen in dogs between three and six years old, but onset at a later age is also possible.

The new DNA testing scheme for POAG has been approved following consultation with the health coordinator for the breed. In a press release, a spokesperson for the Kennel Club said:

'Test results will be added to the dog's registration details which will trigger the publication of the result in the next available Breed Records Supplement. The result will appear on any new registration certificate issued for the dog and on the registration certificates of any future progeny of the dog, and also on the Health Test Results Finder on the Kennel Club website.

'Results for dogs already tested can also be recorded, but owners will need to submit copies of the DNA certificates themselves. If the owner includes the original registration certificate for the dog (not a copy) then a new registration certificate will be issued, with the DNA result on it, free of charge.'

The Kennel Club is also reminding owners that from 1st August, 2018 it will be mandatory that the dog's microchip or tattoo number is recorded on any DNA certificates, along with the dog's registered name or number.

'Any test results that do not carry these identifying features will not be accepted for recording on the Kennel Club database,' the Kennel Club said.