Becoming a Sunday Times Best Company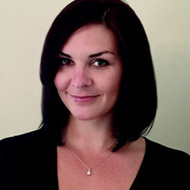 Kristie Faulkner speaks at BSAVA Congress
The Sunday Times 100 Best Companies scheme is designed to measure the success of team engagement within companies and is based on eight key workplace factors. Kristie Faulkner of Whitecross Vets spoke at BSAVA Congress (5-8 May) about her experience of the scheme.

The scheme looks at how well a company achieves in the following areas:

leadership
culture
management
the Company ethos
personal growth
the team ethos
wellbeing
a fair deal
Personal questionnaires on all these topics are given to all staff and are not seen by anyone else in the company.

Kristie spoke about the benefits of the scheme, saying that you really find out how your teams feel about so many issues. You learn about yourselves as managers, teamwork improves, new talent is attracted to the practice and it is good for PR, she said.

From the scheme, Whitecross Vets learned they were working the right way because of the high scores they achieved. However, they discovered that their front of house teams felt they did not receive a fair deal and their nurses wished for more training and development. Buying into the scheme provides a good opportunity for feedback and listening in numerous areas and it inspires improvement.

The group has been in the scheme for six years and has grown from eight to 18 practices over that time. Whitecross has built on what they have learnt from the scheme each year with improvements in communication, such as their in-house magazine and their weekly catch up email to all team members.

Their aim is to create a culture of fun and hard work. They have their own annual congress, provide CPD trips abroad, days off for birthdays and PETernity days for those who acquire new pets. Improved CPD allowances have also been introduced with learning for all the team. Team spirit is seen as very important, so team activities are greatly encouraged.

They have addressed team wellbeing, providing counselling, better working rotas and longer holidays and improved pensions and other benefits for their staff. They also encourage team members to 'give something back' by allowing them five 'donation' days a year when they can carry out voluntary work.

Kristie told the delegates that taking part in the Sunday Times 100 Best Companies scheme has really helped Whitecross Vets to see not just where they were doing well, but where they needed to improve. As long as the need for improvement is taken on board, Kristie said she would recommend taking part in the scheme to all medium to large practices.