The costs of not being a 'good boss and employer'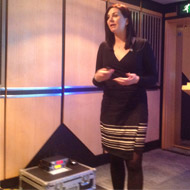 Kristie Faulkner speaks at BSAVA Congress
"Your workforce is a really high cost for your business," said Kristie Faulkner from White Cross Vets, speaking at the BSAVA Congress on the challenges of recruitment and retention in veterinary practice.

Being a good employer is more than just paying a salary. It is about providing work-life balance, an attractive package, and resources for personal growth and development. It should also go beyond the expected, bearing in mind that it is often "little things that make a difference".

"Remember, until the basic personal necessities of life are covered, the motivation to achieve, develop and give more to the practice will not be there," Kristie explained.

She said that the management title of 'boss' should be avoided because of its negative connotations. A good leader empowers decision making, gives clear instruction, is respected by the team and is willing to 'muck in'. Leaders who project warmth are more likely to be trusted and successful than those who are simply 'tough'.

The UK average for employee 'churn' is 15 per cent – compared with up to 28 per cent in some large veterinary groups. Some churn is good but an excessive level is very costly, especially in terms of recruitment and training; as well as the negative impact on the remainder of the team, locum costs, client dissatisfaction and the 'hangover' effect when the new person starts work.

The right team member must be competent, fit with your values, be 'smiley', have a positive attitude, be helpful, friendly and team players.

It is a valuable exercise to analyse why people stay. Is it that they feel part of the practice 'family', aligned with company values, feel valued, can see progression and development in the future? Is there scope for you to fill their 'emotional bank account' and offer some 'give and take'?

When somebody does leave, it is well worth carrying out an 'exit interview'. It can be revealing!