French bulldog set to become 'most popular breed'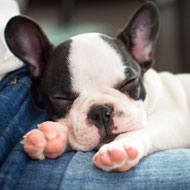 Registration figures prompt 'welfare crisis' concern

French bulldogs could soon overtake Labradors as the UK's most popular dog breed, according to the latest Kennel Club registration figures.

Popular with celebrities including the Beckhams and Leonardo DiCaprio, French bulldogs are currently in third place, after Labrador retrievers and cocker spaniels. If current trends continue, the breed is on course to take the top spot by the end of 2018, unseating Labradors for the first time in 27 years.

New figures show that in 2016 the Kennel Club registered 21,470 French bulldog puppies, 33,856 Labradors and 21,854 cocker spaniels. This represents a 47 per cent increase in the number of Frenchie registrations from 2015-2016 alone, and a staggering 3,104 per cent increase in the past 10 years.

However, the Kennel Club figures account for just 30 per cent of the UK's total dog population, meaning the number of French bulldogs in the country is likely to be far higher, including dogs that have been imported illegally from Eastern Europe.

There are concerns that the breed's popularity is rising as a result of celebrity fashions rather than its suitability for owners. Animal welfare charities are already seeing an increase in Frenchies coming through their doors.

"French bulldog welfare services are getting more and more dogs through their doors, so there is a genuine concern that we could be facing a welfare crisis if their numbers keep increasing," commented Jackie Mavro-Michaelis, secretary of the Pennine and Scottish French Bulldog Association.

Caroline Kisko, Kennel Club secretary, added: "The breed is a favourite with celebrities, who often flaunt them on their Instagram and Twitter accounts for people to coo over. While it's normal to want to show off your dog, when celebrities do it, it usually results in a surge in the popularity of certain breeds, which is not a good thing as it opens the doors to unscrupulous breeders who see it as an opportunity to breed lots of them without due care to health and welfare."

Would-be dog owners are being urged to do their research and consider other breeds that may be more suited to their lifestyles. For those intent on buying a French bulldog, choosing a responsible breeder or considering a rescue dog is crucial if they are to avoid contributing to an impending welfare crisis.