'Tongue worm' reported in imported dogs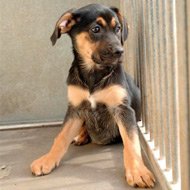 Vets advised to be vigilant for potentially zoonotic parasite

Parasitologists are warning vets to be alert for cases of tongue worm (Linguatula serrata) in the UK after a number of recent cases in stray dogs imported from Romania.

The parasite is potentially zoonotic and there have been reports of rare human cases involving parasite localisation in the eye.

Writing in Vet Record (179, 10), a group of UK experts advised the uptake of strict hygiene measures for handling pets if the parasite is confirmed or suspected. Eggs can be expelled from the mouth, nose or faeces, and may contaminate the pet's coat.

The authors wrote: 'Veterinary practitioners should be alert to the possibility of L serrata, particularly in imported dogs, and should treat appropriately and provide the correct advice to owners.'

Infected dogs may be asymptomatic or have mucopurulent nasal discharge, epistaxis and sneezing. The adult parasite is an elongated tongue shape and large in size - males are up to 20mm and females 30-130mm long. It is found in the nasal cavities or sinuses in dogs, foxes and other canids.

Animals become infected by eating raw offal from infected intermediate hosts, such as sheep, goats, cattle, rabbits and horses. The parasite has previously been reported in foxes in the UK, but the recent cases were in dogs imported from Romania, where dogs are commonly fed raw meat.

Treatment may involve nasal flushing with warm salty water to help detach the parasites. Screening of eggs in nasal flushes could also be carried out to identify them. Surgical removal may not be appropriate as the parasites can attach to the sinuses.

In Romania, macrocyclic lactones are used for treatment. There is also a report of parasite expulsion after milbemycin oxime treatment in a dog.