Breed specific legislation branded 'unscientific'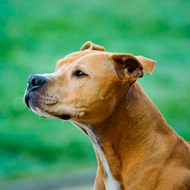 Experts add to calls for an urgent repeal of Section 1

Vets and behaviour experts have spoken out against Section 1 of the Dangerous Dogs Act, which bans four types of dog based on their appearance, calling it 'unscientific' and demanding an urgent repeal of the legislation.

TV vet Mark Evans, who is patron of the Association of Pet Behaviour Counsellors (APBC), said it is "unscientific, unjust and unacceptable" to label all dogs of one breed or type as 'dangerous'.

"It's also incredibly unhelpful in dealing with antisocial dog behaviour and damaging to the welfare of dogs," he added. "The way dogs behave in any situation is not just the result of their genetics. It's also critically dependent on their life experience. For owned dogs, that is massively influenced by the way they are nurtured by the people who share their lives.

"Dogs and their owners should be judged by what they do, not who they are. It's about deed NOT breed. Dogs deserve better."

APBC has become the latest animal welfare and behaviour organisation to denounce Section 1, which has come under fire in recent weeks.

Animal welfare charities have revealed they are forced to euthanise hundreds of healthy, friendly dogs every year as their appearance means it is illegal to rehome them.

Recent reports by the RSPCA and Battersea Dogs and Cats Home have also criticised the legislation for its failure to reduce dog bites, and raised concerns about the welfare of dogs seized and held under the Dangerous Dogs Act.

APBC chair Rosie Barclay said there is "no behavioural evidence" to suggest banned types are more dangerous than any other breed of dog, which is demonstrated in the 'Annual Review if Cases' by APBC members.

Dr Kendal Shepherd, who is a veterinary surgeon, clinical behaviourist and expert witness in cases involving breed specific legislation (BSL), said Section 1 has done nothing to prevent dog bites. She also said there is no standard assessment in place to identify dogs 'of type'.

While BSL remains in place, she called for a universally agreed methodology, alongside sufficient training and expertise in anatomy and behaviour, to provide assessments that can be relied upon by courts and the general public.

Police dog handler David Ryan, who is also an expert witness in BSL cases, added: "A dog of any breed can become 'dangerous' (as defined by section 3 of the Act) but it is always as a result of how the dog is brought up or treated. Therefore it is both unscientific and unnecessarily prescriptive to label particular breeds as dangerous'."