Noel Fitzpatrick receives a Guinness World Record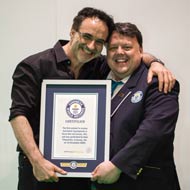 Award presented for world-first operation on Oscar the cat

World-renowned vet Noel Fitzpatrick has been presented with a Guinness World Record for his pioneering operation on Oscar the cat - the world's first animal to receive two bionic leg implants.

Oscar lost both his hind feet in an accident with a combine harvester in 2009. He was flown from his home in Jersey to Fitzpatrick Referrals, where he was given intraosseous transcutaneous amputation prosthetics, that allow skin to adhere to metal, and a pair of unique plastic feet enabling him to walk again.

Noel was presented with the world record at London Pet Show last week by Craig Glenday, editor-in-chief of the Guinness World Records. It recognises the extraordinary efforts of Noel and his team at Fitzpatrick Referrals.

Commenting on the award, Noel said: "The Guinness Book of Records was the first book I ever had, so receiving this award is a real honour!

"I'm very humbled, you're only as good as your next operation – you only ever think about providing hope to pets and their owners and doing your best.

"To be able to help them through the toughest times and see pets like Oscar make a full recovery is the most rewarding feeling and I'm thrilled that the work we carry out at Fitzpatrick Referrals has been recognised by Guinness World Records."