Innovative app reopens stress debate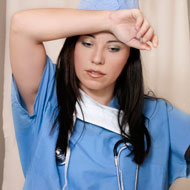 Radar app could support veterinary students and new graduates
The Samaritans charity has launched its Radar app that will notify Twitter users if people who they follow on the site appear to be suicidal. This might provide useful support for veterinary students and recent graduates suffering from stress-related anxiety and depression.

There is no doubt that levels of psychological distress are elevated in the veterinary profession compared with the general population. Vets also show a greater tendency towards suicide, with a proportional mortality ratio for suicide of around three to four times that of the general population – with younger vets, in general, experiencing higher levels of stress than their older colleagues.

The subject of combatting stress in veterinary practice was the subject of an article in the Spring 2014 edition of Veterinary Practice Today. When veterinary graduates were asked what they felt were the most stressful aspects of life in practice, they responded with the following:

No mentoring system within practice
Being on call
Large animal visits
The sudden transition from life in vet school to an environment where they felt cut off from support
Complex medical cases
The responsibility of lone decision making
Reluctance to ask too many clinical questions of their colleagues
That is an interesting list.

Today's veterinary students and new graduates are very social media savvy and according to the 2014 RCVS Survey of the Veterinary Profession, 94 per cent of those aged between 20-29 have a Facebook account and just over 13 per cent visit Twitter – many of them for business purposes as well as social networking. Although the Samaritans are still working on a Facebook adaptation of the Radar app, the Twitter version might just prove to be a life-saving, safety net for some young veterinary professionals who may be struggling with some of the points above.

However, despite the availability of an increasing amount of support, there remains a great deal of work to be done upstream from the immediate problem. Veterinary bodies including the BVA, BSAVA and Vetlife, have long provided helplines for veterinary professionals who are suffering from stress and depression; but aspects of life in practice, such as 'being on call' and the 'responsibility of lone decision making', should really not come as a great surprise to graduating veterinary surgeons.

Working as a veterinary surgeon is a hugely challenging role. The observations in the list above clearly beg the question as to whether there is sufficient trampling on 'rose-tinted spectacles' by career advisers, vet school selection boards and practising vets when potential vet students present themselves for consideration in the first place.