New veterinary teaching hospital announced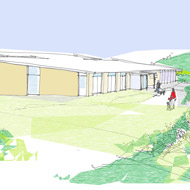 Central College of Animal Studies will open new facility next year

Central College of Animal Studies is to open a new veterinary teaching hospital in Suffolk in summer 2015.
The college specialises in education and training for the veterinary profession and the new hospital in Ipswich will add to existing facilities at the Stowe Veterinary Group in Stowmarket, Suffolk.
The development has been led by the need for practical hands-on skills training and courses for veterinary surgeons, nurses and others working in the veterinary community.
With a clear focus on both practical ability and academic knowledge, Central College courses are designed to provide the skills necessary to succeed in practice. In addition to veterinary nursing, companion animal behaviour and numerous other courses, new and recent graduate veterinary surgeons undergo a structured induction to professional life through the college's graduate training and mentoring programmes.
The new facilities at Ipswich will provide the clinical environment, technology and management systems to enable professional development, giving a good groundwork for a successful career in veterinary practice.
The new hospital is situated on a two acre site which adjoins the London Road entrance to Ipswich. Anyone interested in working or learning with Central College can write to Erica Dorling, Central College of Animal Studies, Elmtree Business Park, Elmswell, Suffolk, IP30 9HR, or email: enquiries@ccoas.org.uk.
Further information about the college is available at www.ccoas.org.uk