Hospice cats named joint National Cat of the Year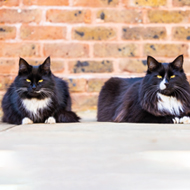 Jasper and Willow scooped the top prize at the National Cat Awards.

The winners of this year's National Cat Awards have been announced, with sibling duo hospice cats named joint National Cat of the Year.

In an awards ceremony held yesterday (4 August) at the Savoy Hotel in London, cats Jasper and Willow were awarded the title in recognition of their role at St Peter and St James Hospice in Haywards Heath, Sussex.

Jackie Manville, front of house manager at the hospice, said: "We are over the moon that Jasper and Willow have been celebrated for the important role they play at the hospice.

"Since they've been with us, they've bought comfort to so many people, whether it's patients, family and friends, or staff. Jasper and Willow really go to show how special rescue cats are, and we're so proud of them both."

"Jasper in particular seems to intuitively know when patients are having a difficult day, or if they are in need of company. He'll hop onto the bed and just sit quietly, purring away. It's enough to raise a smile and helps people relax when they're feeling tense and worried.

"For the staff too, having, Jasper and Willow around is wonderful. On a hard day, just walking around the corner and seeing them is enough to give you a lift. During the pandemic, their constant presence was a huge comfort to everyone in difficult times."

Actress Gaynor Faye, who helped to select the winners, explained her decision: "I chose Jasper and Willow because of how much comfort and support they bring to people at the end of their life when it may be all they've got, and because there's two of them.

"I have a brother and sister cat and know how much comfort they bring to me and also to each other."

The caring duo also won the Outstanding Rescue Cat category. Organiser of the awards, Cats Protection team member Cat Jarvis said: "They are fantastic ambassadors for rescue cats, perfectly highlighting how friendly, caring and gentle they can be when they are given a second chance in life."

Marvellous 13-year-old Misty came out on top in the Most Caring Cat category. Misty provided support to her owner Coral Jones, when she was diagnosed with costochondritis at age 14, a condition affecting the cartilage of the rib cage that causes significant pain.

Coral ended up bedridden, unable to walk for two years, and had to miss out on school and regular teenage experiences. Thankfully, she has a faithful companion through it all. Misty stayed with Coral every day, and when Coral began to walk again, Misty would appear every time she head the sound of crutches on the floor to cheer her owner on.

The Cat Colleagues award went to Marley, a special team member at the Apuldram Centre in Chichester. The centre supports adults with learning disabilities, and Marley spends his days attending staff meetings, spending time with everyone at the centre, and keeping the vegetable patch free from hungry birds.

Chicken – a cat with a very interesting name – scooped the award for the Furr-ever Friends category, which celebrates unique friendships between cats and children.

Her owner Elliot Abery is 11 years old and is autistic, as well as struggling with anxiety. Chicken helps Elliot to feel calmer, and sits with him when he needs someone by his side. Chicken is an important comfort source for Elliot, and talking about her can help to refocus him when stressed.
Image (C) Cats Protection