Report reveals animal welfare enforcement concerns in local councils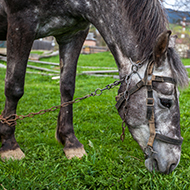 Almost half of local councils have no dedicated animal welfare officer.
A new report published by the All-Party Parliamentary Group on Animal Welfare (APGAW) has revealed that almost half of councils in England don't have a single animal welfare officer in place.

Backed by the RSPCA, NEWC, the Local Government Animal Welfare Group and World Horse Welfare, the new report is calling to improve the effectiveness of animal welfare enforcement.

The report has revealed that a shocking 47 per cent of councils in England have no dedicated animal welfare officers, 22 per cent have one officer, 14 per cent have two officers. 16 per cent have between three and five and one per cent have more.

APGAW policy advisor Marisa Heath, explained: "There's a real picture of inconsistency across England in terms of what services people can rely on locally from their council for enforcing animal welfare.

"We believe councils across England need to be supported to use dedicated, well-trained animal welfare officers, enforcing the plethora of legislation impacting animals that is the responsibility of local authorities.

"It is vital that UK Government and others take note of this report, and work with us to ensure we have more consistent, reliable, well-resourced statutory enforcement bodies ready to collaborate with others."

Based on the findings of the report, APGAW is calling for a number of reforms, including requiring all English local authorities to use dedicated animal welfare officers, creating a better understanding of the different responsibilities between upper tier and lower tier authorities in England, establishing regional animal welfare forums for collaboration and sharing of information.

APGAW has also suggested the formal establishment of a standalone National Animal Welfare Board, with a focused central fund to bid for resources to target large scale animal welfare breaches in a collaborative way. Also suggested is better training for dedicated animal welfare officers, and for Defra to collect enforcement activity statistics across all areas.

Giles Watling MP, co-chair of APGAW, highlighted the importance of the report: "This landmark report suggests there's a real postcode lottery in terms of animal welfare enforcement services across England - with nearly half having no dedicated officers at all.

"We are in the midst of a cost-of-living crisis - and that could have big consequences for animals, and enforcement bodies trying to protect them."

"There is loads that can be done to ensure better collaboration from better understanding the responsibilities of different agencies, to establishing regional animal welfare forums to encourage councils to work with the RSPCA, police and other bodies in their community."

'Improving the Effectiveness of Animal Welfare Enforcement' can be read online.