Rabbit-friendly vet awards return for 2022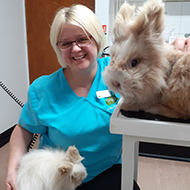 The Burgess Excel Vet Awards will run for a third year.
Rabbit-friendly veterinary professionals and practices will be celebrated at the 2022 Burgess Excel Vet Awards, which has just been confirmed to return for its third year running.

In collaboration with the Rabbit Welfare Association and Fund (RWAF), the awards are open to UK-based practising veterinary surgeons and nurses who have unquestionably demonstrated exceeding levels of care and advice to rabbits, guinea pigs and owners.

Director at RWAF, Rae Walters, expressed RWAF's excitement for the award's return: We're absolutely delighted to continue to support these important awards, which champion vet practices and individuals who work tirelessly to provide the highest standards of care for rabbits and guinea pigs."

Eight award categories will be available for submission. These are:

• Rabbit Vet of the Year
• Rabbit Vet Nurse of the Year
• Rabbit Support Staff of the Year
• Rabbit Practice of the Year
• Rabbit Student of the Year
• Rabbit Friendly Charity Practice of the Year
• Guinea Pig Friendly Practice of the Year
• Rabbit Awareness Week (RAW) Campaign of the Year.

Nominations will open on 8 August 2022, and will be free to submit. After consideration from a judging panel of notable industry figures, veterinary professionals and rabbit specialists, the results will be announced at the London Vet Show 2022.

Dr Suzanne Moyes, spokesperson for the Rabbit Action Awareness Group (RAAG) and Rabbit Awareness Week (RAW), veterinary director at Burgess and member of the judging panel, said: "As a key source of trusted information for many rabbit and guinea pig owners, veterinary practices continue to play a vital role in engaging with - and helping - them understand the complex and high levels of care and attention that these amazing animals need.

"It has been wonderful to read the previous awards entries over the past two years and really encouraging that so many veterinary professionals are going above and beyond for these fantastic creatures.

"We are looking forward to receiving this year's entries, although we know we will face a difficult job in choosing the worthy winners!"

Those interested in submitting a nomination can do so on the awards website, or by completing a nomination form and returning it via post. Further information on the award categories and eligibility criteria can be found here.