Vets provide update on Ukraine equine appeal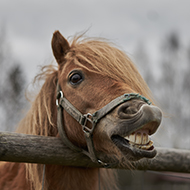 British Equestrians for Ukraine has raised more than £250,000 so far.
Veterinary support has "made a considerable difference" to horses caught up in the Ukraine-Russia conflict, with a "great number" of horses surviving illness wounds and trauma", according to members of the fundraising group, British Equestrians for Ukraine.

In an update to the veterinary profession, the group said that veterinary aid, support and supplies coordinated by its members, have been distributed across Ukraine and that those involved are "extremely grateful" for the help.

British Equestrians for Ukraine was assembled by Anatoly Levitsky, a retired Ukraine Equestrian team vet and in-house vet at Kyiv Hippodrome. Noting the urgent need for medication, equipment and dressings in the war-torn country, he reached out to his network of contacts, including the British Equestrian Trade Association (BETA) and the British Equestrian Veterinary Association (BEVA).

The campaign saw David Rendle, president-elect of BEVA and Dr Till Hormann or Hormonn Equine, a mobile practice in Yorkshire, secure various donations of aid, as well drugs and equipment at trade or reduced rates, using funds raised by British Equestrians for Ukraine. Their efforts secured goods worth more than £190,000 - enough to fill two lorries - that were driven from Britain to Ukraine by the Ukrainian Equestrian Federation.

Mr Levitsky has overseen the distribution of much-needed medicines, dressings and equipment throughout the regions in need and believes supplies should last several months. In a letter penned to David Rendle, thanking him for his assistance, he said:

"I'm grateful to you David and all the organisations who made this possible, for not giving up when faced with the difficulties and for placing your trust in us. Also, for collaborating together, which can't have been easy, to make a huge difference. It has been worth it, and you have not only brought relief to animals but given support to the people themselves by showing them that they are not alone and for as long as it takes.

"Many international organisations took part in providing food and evacuation of horses from the war zone, but only you came to the help of Ukrainian vets in treating the wounded, burned and traumatised equines. The two big trucks you provided with drugs and equipment was brilliant – so much so it wasn't easy to unload, to sort and to distribute between different regions of Ukraine – but we're so grateful."

David Rendle added: "Without the generous support we've received from a number of individuals and companies, none of this would have been possible. As equine vets, we're passionate about welfare and we knew we had to do something to help the horses as well as the people. It's been a huge collaborative effort and the results speak for themselves with the number of lives saved and relief provided.

"However, the situation in Ukraine is ongoing and while we may have bought some time for now, the need for help will continue. With winter not that far away, further support will be needed. Anatoly and the network of vets and volunteers have done some incredible work in the most testing of conditions and I call on everyone's support so that we may continue to provide whatever help is required to the horses and people of Ukraine."

To date, British Equestrians for Ukraine has raised more than £250,000, but the team is appealing for further donations to assist with the continuing requirements for veterinary and farrier support. They also require financial donations to aid its in-country supply network for feed, forage and bedding, particularly as the colder months approach.

To donate visit the World Horse Welfare website. Contributions such as veterinary products, feed, small bale forage, bedding or equestrian equipment should be donated to the British Equestrian Trade Association, which is coordinating the transport and distribution.