Johnson's chairman David Johnson dies following short illness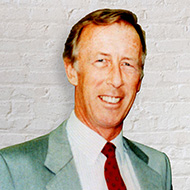 Mr Johnson was a highly respected figure within the UK pet trade.
MRCVSOnline is saddened to learn of the passing of the chairman of Johnson's Veterinary Products Ltd, David Johnson.

After joining the family business in 1970 as a chartered accountant, Mr Johnson fast became a highly respected figure within the UK pet trade. He played a pivotal role in overseeing the development and success of Johnson's as it grew from a local family firm to an international pet healthcare brand.

A statement released by Johnson's reads: "The loss of the company's figurehead is keenly felt, following on so closely to the business celebrating 100 years of caring for the nation's pets, in May 2021. He will be sorely missed by all who knew him, but especially his family, friends and colleagues.

"Not only was David responsible for turning Johnsons Veterinary Products into one of the UK's leading pet healthcare brands, but he worked tirelessly to help raise the profile and professional standards across all aspects of the UK pet trade.

"The company and the wider UK pet trade has lost one of the great champions of the industry and his passing reduces considerably the experience and expertise that has helped the business and the sector move forward to the respected positions both find themselves in today."

Mr Johnson passed away peacefully on 21 July 2022 in Good Hope Hospital, following a brief battle with illness.