Cats Protection highlights bereavement support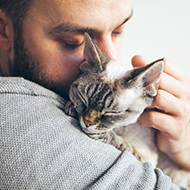 Throughout July, the charity is promoting the Paws to Listen service.
Ahead of Pet Remembrance Day (Tuesday 5 July), Cats Protection is bringing attention to Paws to Listen, its free-to-use service to support bereaved pet owners.

Over the month of July, the charity is running a campaign called 'Never Furgotten', advising people to contact Paws to Listen if they need support, and someone to talk to.

Catherine Joyce, team leader of the Paws to Listen service, said: "We hear from many troubled cat lovers who are having to process difficult emotions after the loss of their pet.

"Some people said they felt confused, angry or guilty about their cat's passing. Others felt they were being a burden to their friends by talking about it or that they should have 'got over it' because they lost a pet rather than a family member or friend.

"In fact, grief is a very personal process and everyone experiences it differently. The emotions are completely normal and finding a sympathetic ear can help immensely with coming to terms with loss. Please don't feel reticent about picking up the phone."

The Never Furgotten campaign also signposts bereaved cat owners to the Cats Protection online memory wall, where owners can post tributes to their beloved pets, and make an optional donation to support the cats searching for their forever home with the charity.

Bereaved cat owners can contact Paws to Listen on 0800 024 94 94, and there is a call-back service available if the lines are busy. An email option is also available, and anyone wishing to use the service can email pawstolisten@cats.org.uk for support.

The lines are open Monday to Friday 9am – 5pm, excluding Bank Holidays.