MMI awards Sarah Brown Research Grant 2022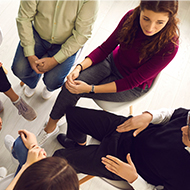 Study exploring Compassion Focussed Therapy to receive this year's grant.
The RCVS Mind Matters Initiative (MMI) has awarded the Sarah Brown Mental Health Research Grant to a project investigating the effectiveness of online Compassion Focussed Therapy (CFT) on veterinary psychological wellbeing.

Set up in 2019 in memory of RCVS Council member Sarah Brown, who sadly passed away in 2017, the grant awards £20,000 on a yearly basis to fund research into the mental health and wellbeing of veterinary professionals.

Led by Dr Katherine Wakelin, clinical psychologist, a research team at the University of Surrey has been awarded this year's grant.

In light of the great number of moral challenges veterinary surgeons in clinical practice face, and the rigorous academic requirements required to enter the profession which contribute to perfectionistic and self-critical traits, veterinary surgeons are vulnerable to moral distress.

Compassion Focussed Therapy may be more effective for veterinary surgeons than traditional cognitive therapies, as gaining a better understanding of personal thinking patterns may not be helpful enough for those experiencing significant self-criticism and moral distress – whereas CFT aims to consciously develop the participants ability to self-soothe and be compassionate to themselves.

Dr Katherine Wakelin commented on the announcement of her success: "It's fantastic news to have been awarded the grant. Having the opportunity to grow and build on my previous research is very exciting as my 2021 feasibility study showed very promising results!

"Now we have an opportunity to test the intervention further using more robust methodology and continue to investigate how the mental wellbeing of veterinarians can be supported."

The funding will be used to build on the team's previous promising research, and will run a randomised control trial study to establish the effectiveness of CFT intervention for veterinary professionals.

MMI manager, Lisa Quigley, commented on the grant: "We're delighted to be awarding this year's grant to the research team at The University of Surrey.

"We were impressed by their thorough application and the careful consideration that went into tailoring the research project to veterinary professionals.

"Perfectionism and self-critique are commonly present amongst veterinarians, and it is important to take these specificities into account when developing effective modes of support.

"We look forward to hearing the outcomes of the research and how we as a profession can use this knowledge to create more targeted mental health support for those working within the professions."

The grant will be awarded to Dr Wakelin at the RCVS Royal College Day on 8 July.