RVC signs memorandum of understanding with Ukrainian university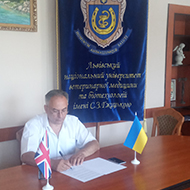 The College has pledged to support research and education at Stepan Gzhytskyi University.

The Royal Veterinary College (RVC) and Stepan Gzhytskyi University (SGU) have signed a Memorandum of Understanding (MoU) to support research and education in Ukraine.

The partnership will support the continuation of education and research capacity at SGU during the war with Russia, and consider how post-war developments, such as exhange opportunities and research collaborations, can mutally benefit staff and students.

It forms party of a broader scheme, endorsed by the UK Government and the Office of the President of Ukriane, to provide ongoing assistance between UK and Ukraininian universities and strengthen support for Ukraine.

Some 70 UK universities are participating in the scheme, but the collaboration with SGU is the only partnership focusing on veterinary medicine.

RVC president and prinicipal, Professor Stuart Reid CBE, said: "The RVC is proud to partner with Stepan Gzhytskyi University and is humbled by the opportunity to support Ukraine during this incredibly difficult time.
"Veterinary and biological sciences are shared strategic areas for the RVC and SGU and we are committed to providing immediate support with a longer-term view of developing a strong and lasting collaboration between our two institutions and our two countries."

Rektor of Veterinary Medicine and Biotechnologies of Lviv at SGU, Professor Volodymyr Stybel, added: "For our University, this is a significant step forward in the field of internationalization. It is a great honour for us to have such a partner as the Royal Veterinary College.
"We are sincerely grateful to all the British people for their huge support in such a difficult time for us. We hope for our joint victory over terrorism and fruitful cooperation!"
Stepan Gzhytskyi University is home to the oldest veterinary school in Ukraine, established in 1784. Based in Lviv, the institution places a strong focus on economics, management, tourism, and law as well as veterinary sciences, biosciences, and biotechnology.
Image (C) RVC.