Chief vet removes foot-and-mouth disease control zone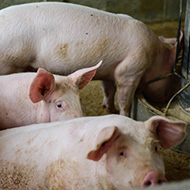 Officials declare a new temporary control zone for swine vesicular disease.
A temporary disease control zone has been removed after tests for a suspected case of foot and mouth disease virus (FMDV) returned negative.

The 10km control zone was placed around a premises near Feltwell, Kings Lynn, on Thursday (June 23) following suspicion of vesicular disease in pigs.

In its latest update, Defra said: "Following official testing at the UK national reference laboratory, the UK Chief Veterinary Officer has negated suspicion of foot and mouth disease in pigs at a premises Near Feltwell, Kings Lynn and West Norfolk, Norfolk. The 10 km Temporary Control Zone (foot and mouth disease) has been revoked.

"Suspicion of vesicular disease in pigs remains and a new Temporary Control Zone (Swine vesicular disease) has been declared."

According to Defra, the symptoms of swine vesicular disease can be confused with foot and mouth disease. The main sign is blisters, appearing at the top of hooves, between the toes and occasionally on the snout, tongue and lips. Other signs include lameness, loss of appetite and fever.

Swine vesicular disease is spread by contact with infected pigs or body fluids, pigs eating infectious meat, or contact with anything contaminated with the virus. Pig keepers are urged to practise good biosecurity on their premises and to report any suspected cases to the APHA.

The condition does not affect humans, although there have been some isolated cases of accidental infection of laboratory personnel working with the virus. The last UK outbreak occurred in 1982.