RVC reveals new insights on hamsters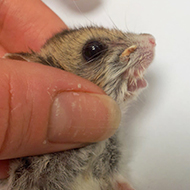 Study finds most common disorders and average lifespan.

New research from the Royal Veterinary College (RVC) has revealed the most common disorders and average lifespan of hamsters in the UK.

Revealing the 20 most common disorders in pet hamsters, the researchers found that the most common of these was 'wet tail', bite injuries from other hamsters, overgrown nails and/or incisors and traumatic injury.

Despite the popularity of pet hamsters, little research has been published on their health issues. It has been difficult to get reliable data on the overall health of UK hamsters, as they are brought to veterinary practices far more infrequently than other companion animals.

Led by the RVC's VetCompass programme, the study investigated the anonymised veterinary clinical records of almost 4,000 hamsters – the largest study of its kind worldwide, in order to help veterinary surgeons and owners better understand future treatment of hamsters and help to set expectations regarding life expectations.

Co-author of the paper, veterinary surgeon Kate Kim commented: "Due to the limited information on companion hamster health, very little is taught on their care in vet school.

"This research will help vet students, veterinary team members, and owners to work together to ensure better care and hopefully improve the welfare of many future generations of these precious pets."

Of the 20 most common disorders found in pet hamsters, wet tail (7.33 per cent), disorder not diagnosed (7.30 per cent), bite injuries from other hamsters (5.88 per cent), overgrown nails (4.13 per cent), overgrown incisors (3.98 per cent), traumatic injury (3.80 per cent) and abdominal mass (3.08 per cent) were the most prevalent overall.

The researchers also studied life expectancy and mortality in UK hamsters using the data, and found that the most common causes of death were wet tail, abdominal mass, cancer and difficulty breathing.

Average life expectancy for hamsters in the study was 21 months (1.75 years), and the ages at death for all hamster species studied did not differ between species.

Lead author of the study and associate professor in Companion Animal Epidemiology at the RVC, Dr Dan O'Neill, explained the importance of the research in setting realistic expectations on life expectancy and health.

He said: "Hamsters can make good pets for both adults and children but until now, very little was published about their health.

"Parents can now help their children with realistic expectations of how long their hamster may live and what are the most common conditions to look out for to protect the health of these delightful little creatures."

Current BVA president, Dr Justine Shotton reiterated this sentiment: "Hamsters can make good pets but it's important for their specific welfare needs, such as being nocturnal, to be understood and met and that both owners and vets are aware of the common signs of ill health, so they know when medical intervention is needed.

"For owners, having realistic expectations of life expectancy is also helpful, particularly if a child is to be involved in the hamster's care.

"It is advisable to speak to a vet before getting any pet, to make sure it is the right animal for all who will be responsible for it and to consider other species which may be a better fit for the owner or family."

The study, 'Demography, disorders and mortality of pet hamsters under primary veterinary care in the United Kingdom in 2016' is published in the Journal of Small Animal Practice (JSAP), and is available to read via this link.

Image (C) The Royal Veterinary College