Report urges more support for BAME students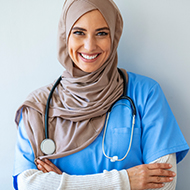 Joint RCVS and VSC publication makes 14 recommendations to help institutions implement change.
A new report setting out recommendations for how to improve support for Black, Asian and minority ethnic (BAME) veterinary students has been published by the RCVS in partnership with the Veterinary Schools Council (VSC).

The BAME Student Support Working Group Report is the culmination of the work of the joint RCVS and VSC BAME Student Support Working Group, established to explore key issues in supporting BAME veterinary students during their studies.

In the report, the group makes 14 recommendations to improve the experience of BAME students, including:

developing formal support and guidance documents for students going on placement and developing formal discrimination reporting mechanisms for students;
ensuring all staff and students are aware of the new RCVS Accreditation Standards in relation to equality, diversity and inclusion (EDI) in teaching and placement settings;
providing guidance and training to university staff on handling discrimination complaints;
providing EDI training to university staff, students and placement providers to improve awareness of equality legislation – including rights and responsibilities – as well as other key concepts in EDI, such as micro-aggressions;
resource, support and collaborate with BAME student groups and societies to better understand experiences;
improve the visibility of BAME role models to create a more inclusive and positive educational experience for BAME students;
provide access to support and advice for BAME students through internal and external mentoring initiatives;
review and adapt the guidance on religious clothing and belief for use within local settings.
RVC graduate Stephanie-Rae Flicker, who co-chaired the Working Group with Professor Rob Pettitt from the University of Liverpool, said: "It has been a privilege to contribute to the VSC and RCVS BAME Student Working Group in the last year. Collectively, our members have been able to reflect on the experiences of under-represented students within our profession and produce recommendations for improvements in this Report.

"I hope this encourages and supports our veterinary institutions to actively implement change regarding discrimination faced during studies and placements, nurturing role models and helping affected students develop a sense of belonging and community during their studies and beyond."

Professor Pettitt added: "I, and the rest of the team, am immensely proud of this report that is the result of many hours of hard work from many people; I cannot thank them all enough. It is however important to state that this is just the first stage and VSC will work hard to deliver the recommendations that have come from this report to ensure that everyone in the profession can work in a supported and safe manner no matter what."

In addition to the report, the RCVS has published separate guidance on religious clothing and beliefs. This guidance is designed to act as a template that can be adopted and used by vet schools, EMS placement providers, other veterinary educational establishments and any veterinary organisation.