Inhaled immunotherapy shows promise for canine lung cancer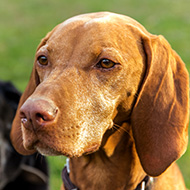 Research could also have benefits for humans with the disease.

US researchers have discovered that a protein naturally produced by the body could become a vital new immunotherapy drug in the fight against cancer.

Scientists at UC Davis and other institutions conducted a trial on 21 dogs with metastatic lung disease from osteosarcoma and melanoma. For 14 days, the dogs inhaled a mist containing interleukin-15 (IL-15) - a protein previously recognised for its immunotherapy properties.

The results, published in the Journal for ImmunoTherapy of Cancer, show that amplified concentrations of IL-15 can stimulate immune system defenses against some types of cancers in dogs.

"No one previously had administered IL-15 as an inhaled treatment in dogs to deliver it directly to the site of the cancer," explained Dr Rober Canter, a surgical oncologist at UC Davis Comprehensive Cancer Center. "We came up with that idea as a means of reducing exposure to the rest of the body, in order to improve the benefit-risk ratio, to improve the immune stimulating effects, and to reduce toxicity."

"In this study, we used interleukin-15 to reinvigorate the immune system to make it recognize the cancer cells that had evaded the immune system and eliminate them."

In the first-of-its-kind trial, the dogs began to show significant responses to the protein two weeks after they begain inhaling the mist.

In two dogs, tumours shrank dramatically – including one that went into complete remission for more than a year. Furthermore, cancer that had been growing rapidly in five other dogs stabilised for several months - with the overall response rate being close to 40 per cent.
While more research is yet to be carried out, the team hopes that its findings will also benefit humans with advanced metastatic cancer.

"As part of our comparative oncology research, we are strong advocates of clinical trials in companion dogs, especially for immunotherapy, as a way to speed bench-to-bedside translation," added Dr Canter. "The cancers that afflict dogs, including sarcomas, brain tumors, lymphoma and melanoma, are incredibly similar to cancers that humans develop."