New insights into retention of FMDV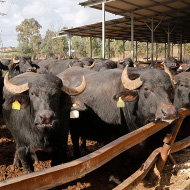 Foot-and-Mouth Disease study explores persistent infection.
A new study has revealed detailed insights into how the Foot-and-Mouth Disease Virus (FMDV) causes persistent infection in livestock.

A team comprised of researchers from the Roslin Institute and the Pirbright Institute explored how FMDV interacts with immune cells, in order to inform the development of a future long-lasting vaccine.

Using mice in the study, the scientists found that FMDV binds to follicular dendritic cells, found in lymphoid tissues in the immune system, such as in the spleen.

The Pirbright Institute's Professor Bryan Charleston explained: "This research helps to bridge the knowledge gap of how the immune system deals with FMDV infection in large animals.

"Our extensive work in African buffalo, a natural host of the disease, allowed us to predict why and how persistence may occur and then test this theory in a small animal model."

Follicular dendritic cells, which FMDV binds to, behave similarly to spider webs, trapping foreign particles and certain viruses within them for significant periods of time, in order for the other cells in the immune system to make immune responses.

This retention of the virus within the follicular dendritic cells is what the researchers believe may assist the virus in persisting in livestock, allowing them to become carriers and risking the health of other susceptible livestock.

Professor Neil Mabbott, of the Roslin Institute, commented on the value of the research for informing future vaccine development: "Our research has uncovered a key biological process by which the virus for Foot-and-Mouth Disease is able to remain in the immune systems of animals such as African buffalo.

"This could inform efforts to develop improved vaccines which, unlike current vaccines, provide longer term protection to safeguard livestock."

The study is published in PLOS Pathogens.