Leading experts form consortium to tackle avian flu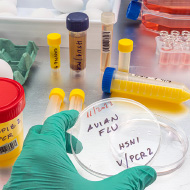 Eight UK organisations join forces to find new ways to control the disease.
A new major research consortium dedicated to tackling avian influenza has been announced.

Comprising eight of the UK's top scientific organisations, including the Pirbright Insitute and the Royal Veterinary College (RVC), the consortium will be responsible for developing new strategies to tackle future avian flu outbreaks.

The move follows a year of unprecedented cases of the disease, with 100 in the UK alone. Scientists hope that, through collaboration and knowledge exchange, the consortium will help find strategies to control the spread of disease.

Among the key aims of the project include:

monitoring current flu virus strains;
understanding the spread of disease in different bird populations;
developing models to predict how the avian influenza virus may spread and;
informing strategies to decrease disease risk and transmission to people.
Professor Munir Iqbal, head of Pirbright's Avian Influenza Virus group, said: "The expertise of Pirbright's researchers will help to achieve the key aims of this consortium, and as an Institute, we are extremely proud to be part of this.

"Avian influenza is an economically important virus that has devastating effects on the poultry industry, therefore improved understanding of the virus will give us more insight into how it spreads and inform our control strategies to prevent it from spreading to people and other animals."

Dr Guillaume Fournié, a senior research fellow at the RVC, said: "As part of this project, the RVC will contribute to improve our understanding of highly pathogenic avian influenza virus dynamics in wild bird populations, at the interface between wild birds and domestic poultry, and its potential to cause large outbreaks among farms. This information will allow us to inform the design of more targeted surveillance activities and risk mitigation interventions better tailored to the UK poultry sector."

The UK's chief veterinary officer, Christine Middlemiss, added: "This new consortium will allow us to combine our expertise at a national level to increase the speed and quality of our research, ensuring we can develop new strategies to aid our efforts against this insidious disease and hopefully in time reduce the impact on the poultry sector."

The project has been made possible thanks to £1.5 million in funding from the Biotechnology and Biosciences Research Council (BBSRC) and the Department of Environment, Food and Rural Affairs (Defra).

Consortium members include the Animal and Plant Health Agency, The Pirbright Institute, Royal Veterinary College, Roslin Institute, University of Cambridge, Imperial College London, University of Leeds and University of Nottingham.