Exotic frog found in supermarket 4,000 miles away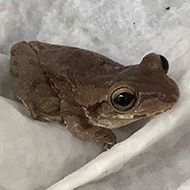 The little tree frog went on a 'bananas' journey.

A tree frog has had a 'bananas' adventure after a shopper found him in their food shopping.

On Thursday 9 June, an unsuspecting shopper opened the bananas they had just bought to find a tiny tree frog inside, and called the RSPCA for help, worried that the little frog had injured his leg.

At only 3cm long, the adorable frog travelled 4,000 miles undetected to give the shopper in Sheen, South London, an unfrogettable surprise!

RSPCA inspector Philip Norman was called to help, and said: "The shopper had bought them at a local supermarket but had quite the shock when he unwrapped them at home to find the little frog inside.

"The bananas had come from the Dominican Republic so this little one had quite the adventure!"

Although tricky to identify, the frog is thought to be either a Hispaniolan common tree frog or a Dominican tree frog.

Philip explained that the frog had likely been wrapped up in the bag of bananas for a long time, but thankfully, the frog's adventuring days are now over, as he has been transferred to Heathrow Animal Reception Centre, where he will be taken care of.
Image (C) RSPCA