New insect recorded in Shropshire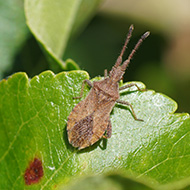 Fallen's Leatherbug identified in the area for the first time.
A new species of insect has been identified at a nature reserve in Shropshire, as reported by BBC News.

The Fallen's Leatherbug, identifiable by the v-shape caused by two rows of pale spines on the pronotum, is typically found in coastal sand dunes between Norfolk and South Wales.

It is the first time the species has been recorded in the area, and was found at the Eardington Nature Reserve near Bridgnorth.

The group who made the discovery, the Joy of Wildlife group, is made up of volunteer wildlife enthusiasts who were undertaking surveys at the time.

One member of the group, Keith Fowler, told BBC News: "How did it make the hop to Eardington? I have no idea, but they do have wings.

"Let us hope several made the journey and a colony becomes established."

The Fallen's Leatherbug, known scientifically as Arenocoris falleni, has also been found in the East Anglian Brecks, and occasionally inland in gravel pits and sandy habitats.