AI developed to detect leptospirosis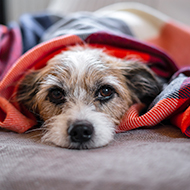 Scientists at UC Davis created the model for early detection.

Scientists and veterinary surgeons at the University of California, Davis (UC Davis) have created an artificial intelligence model for early detection of leptospirosis.

Caused by dogs drinking water contaminated with Leptospira bacteria, leptospirosis ultimately leads to kidney failure, liver disease and severe bleeding in the lungs. Early detection of the disease is vital to give dogs the greatest chance of survival and recovery.

Explaining the need for a better detection method, lead author Dr Krystle Reagan said: "Traditional testing for Leptospira lacks sensitivity early in the disease process.

"Detection also can take more than two weeks because of the need to demonstrate a rise in the level of antibodies in a blood sample.

"Our AI model eliminates those two roadblocks to a swift and accurate diagnosis."

Researcher used historical data of patients at the UC Davis Veterinary Medical Teaching Hospital that had been tested for leptospirosis. Routinely collected blood samples from 413 dogs was used to train the AI prediction model.

Of the 53 dogs brought in for suspected leptospirosis over the next year, the AI model correctly identified all nine dogs that were positive for leptospirosis. Of the 44 leptospirosis negative dogs, the AI model correctly identified 90 per cent.

Dr Reagan commented: "My hope is this technology will be able to recognize cases of leptospirosis in near real time, giving clinicians and owners important information about the disease process and prognosis.

"As we move forward, we hope to apply AI methods to improve our ability to quickly diagnose other types of infections."

As a zoonotic disease, leptospirosis can transfer from animals to humans, and is difficult to diagnose in humans. The researcher hope that the developed technology will be able to be used in human medicine.
The research for this project has been published in the Journal of Veterinary Diagnostic Investigation.