Government rolls out new badger vaccination licence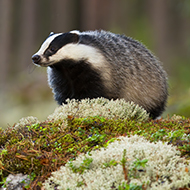 Simplified licence will streamline the administration process.
The government has announced a new and simplified licence for vaccinating badgers under plans to strengthen efforts to eradicate Bovine TB in England by 2038.

The new licence will permit those trained to carry out badger vaccinations to register as an 'authorised person', streamlining the administration process and enabling more badgers to be vaccinated.

A total of 1,575 badgers across England were vaccinated in 2021, and the hope is this new licence will encourage more farmers, landowners and vaccination groups to play a part in vaccination projects.

Biosecurity minister Lord Benyon explained: "Bovine TB is one of the most difficult and intractable animal health challenges that the UK faces today, causing considerable trauma for farmers and costing taxpayers over £100 million every year.

"The widespread vaccination of badgers is a key cornerstone of our strategy to eradicate TB by 2038, with our new and simplified licence allowing more farmers and vaccination groups to join the fight against this insidious disease."

Natural England will continue to conduct inspections to ensure that vaccination projects adhere to the licence terms and best practice guidance.

Those interested in registering for the licence can do so from today (26 May) via gov.uk. Applicants must subit evidence of their badger vaccination training and can expect a decision within 48 hours.

Successful applicants will be able to start vaccinating badgers immediately with the landowner's permission and report their activity in a new smartphone app, developed by the Worldwide Veterinary Service.