Cats Protection announces 2022 behaviour conference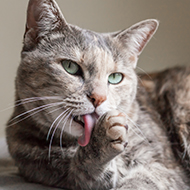 The annual conference will count as seven hours of CPD.
Cats Protection has announced its third annual online behavioural conference, taking place on Friday 2 September 2022.

Featuring seven hours of feline behavioural CPD for veterinary professionals, the theme for the conference is 'Happy cat, happy owner – purrfect problem solving'.

Live sessions throughout the day will focus on key topics in feline behaviour, these will be; supporting owners with problem cats, overgrooming, meeting cat welfare across varied environments and teams, management of feline osteoarthritis, house soiling and confrontational behaviour.

Each live presentation will have a question and answer session afterwards, and the event will also have a panel discussion on the latest research in feline behaviour.

Speakers include Dr Anne McBride, Dr Sue Paterson, Dr Anna Ewers Clark, Dr Nathalie Dowgray, Anneleen Bru MSc CABC and Dr Sarah Heath.

The conference is suitable for veterinary professionals and all those who work closely with cats, including rehoming centre teams, cat fosterers, behaviourists, groomers, cattery employees and students studying animal-based courses.

Post-event, the online content will be available to access for six months. Interested parties can visit the Cats Protection website to find out more, and to register a place.

Early bird ticket price is £40, and ticket price will go up to £60 after 30 June.