Goa on track to eliminate rabies, study finds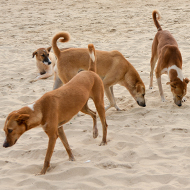 Study proves how mass vaccination of dogs can prevent thousands of deaths in people.
The Indian state of Goa could soon be free of rabies, thanks to a successful campaign by Mission Rabies to vaccinate dogs in the region.

According to a study by the Government of Goa, Mission Rabies and the University of Edinburgh's Royal (Dick) School of Veterinary Studies, Goa is now on track to eliminate the disease.

Researchers say their findings prove how mass vaccination in dogs can lead to the elimination of rabies in people and how the approach can be scaled up across India to prevent the deaths of thousands of people.

The paper published in Nature Communications describes how the team used smartphones to capture large amounts of data on stray dogs. This data enabled them to target dog populations in Goa more effectively to eliminate the virus in both dogs and people.

A comprehensive education programme and intensive rabies surveillance were also necessary to control the spread of the disease and were significant factors in the success of Goa, the study found.

Researchers say that lessons learned during the Goa campaign will be vital in the ongoing fight against rabies in India and across the world.

Dr Andy Gibson, director of strategic research at Mission Rabies and study lead, says: "The One Health program evaluated in this paper consisted of three core areas of activity: dog vaccination; rabies education; and intensified human and animal rabies surveillance. These are the three cornerstones required to beat this disease."

Luke Gamble, CEO of Mission Rabies, states: "The work of Andy and the team showcases what can be achieved by phenomenal grit and determination. Vaccinating over half a million dogs in Goa over the last five years has been no simple feat, and this paper demonstrates what many thought was impossible."

Some 99 per cent of all human cases of rabies result from being bitten by a rabid dog. The virus spreads via saliva and enters the body through damaged skin or the eyes, nose or mouth before travelling up the peripheral nerves to the brain.

Rabies has the most significant mortality rate of any infectious disease, and there is no treatment once symptoms appear.

The World Health Organization (WHO) has set a target for global dog-mediated human rabies elimination by 2030.