Report sets out options for student EMS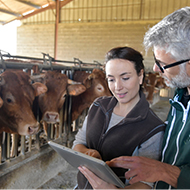 Action plans will be presented later this month.

A report outlining options for the future implementation of student extra-mural studies (EMS) has been issued by the RCVS.

The document, available on the RCVS website, summarises discussions held at an RCVS stakeholder day in November, attended by practising vets, students, new graduates, vet schools and membership organisations.

Delegates at the 'Future of EMS' event considered the benefits and challenges around implementing EMS – particularly long-term sustainability - and worked in small groups to discuss the following three models

enhanced learning outcomes focused EMS placements that could reduce the number of weeks of EMS needed

additional structured placements co-ordinated by the school, further to intramural rotations, focusing on consolidating skills learned in the programme

initiatives to increase the availability of EMS placements and the number of workplaces offering EMS.
Outcomes from the day will be written up into viable proposals, with action plans presented to the RCVS Education Committee later this month.

The coronavirus pandemic had a profound impact on EMS, with the number of mandatory hours temporarily lowered and several modalities of EMS altered. Despite this, the stakeholder day revealed that students often find placements to be a valuable element of their studies.

In recent years, stakeholders have identified several challenges with the implementation of EMS placements, including the consistency of the quality of the experience for students, the availability and cost of placements and instances of discrimination faced by students.

Dr Linda Prescott-Clements, RCVS director of education, said: "We are aware of the challenges that EMS places on students and providers and understand that, for many students, the placements can impact them financially. As well as addressing these issues, we also want to make sure that the implementation of EMS is sustainable in the longer term and continues to provide valuable experience for students.

"The EMS stakeholder event was an opportunity for people from across the veterinary professions to come together to discuss the benefits and issues with the current systems and put forward suggestions for what future models of EMS could look like."