Study to explore airway inflammation in racehorses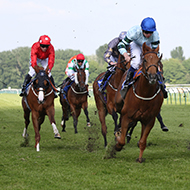 Researchers hope to establish the details of the condition.
Researchers at the University of Edinburgh are investigating why racehorses commonly develop airway inflammation during intense training.

It is hoped that the findings will inform ways to help racehorses to alleviate these respiratory illnesses and improve athletic performance.

The research team will pinpoint the effects of training on activity in immune cells from horses' airways and lungs using advanced analytical methods, and will search for biological indicators of susceptibility to disease.

Dr Anna Eleonora Karagianni, research fellow at the Royal (Dick) School of Veterinary Studies, explained: "Racehorses commonly develop airway inflammation, especially during early season training, which can significantly impair athletic performance.

"Previous studies have reported a detrimental effect of exercise on the functional capacity of airway-derived immune cells.

"We hope to establish the detail of this, to inform management and training of equine athletes, and advance understanding of similar conditions in humans."

Alongside developing understanding of mild to moderate equine asthma (MMEA), the research team is also hoping to explore exercise-induced pulmonary haemorrhage (EIPH), where horses experience bleeding into the airways.

EIPH is also commonly developed by training horses, and researchers will seek to determine whether the two conditions are linked.

It is thought that the outcomes from this two-year study may also have significance for advancing understanding of the link between high intensity training and respiratory systems in human athletes.