Half of vet professionals experienced online abuse in 2021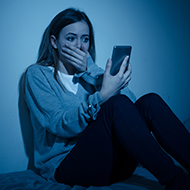 BVA launches campaign to support veterinary workplaces experiencing abuse from animal owners.

The BVA is calling on vet teams to protect colleagues from client abuse as new figures show one in two vets experienced online abuse in 2021.

The association has launched a new campaign named: 'Respect your vet team – end abuse', which aims to support vets and veterinary workplaces who experience abuse from animal owners either in person on online.

Figures released from BVA's bi-annual Voice of the Veterinary Profession survey reveal that online abuse is almost as common as in-person abuse. Another survey conducted last year showed that 57 per cent of vets in clinical practice felt intimidated by clients' language or behaviour.

BVA President Justine Shotton said: "The current pressures on vet teams are immense, and it's simply unacceptable that their jobs should be made even harder by abuse from clients, either online or in person.
"We're very aware that a visit to the vet may be an anxious and uncertain time for animal owners, particularly when the prognosis is poor or the necessary treatment is costly, but it is absolutely unacceptable to take these frustrations out on veterinary staff. These figures show that such interactions are just as frequent, and just as damaging online as they are in person."
She continued: "I know from experience the huge impact that a single aggressive or intimidating interaction with a client can have on your mental wellbeing. When incidents mount up it is no surprise that they can affect our sense of job satisfaction and ultimately drive skilled veterinary staff out of the profession."
The latest survey figures show that vets who had experienced online abuse in the past 12 months were more likely to report that they will have left the profession in five years to pursue another career. They also show that female vets (45 per cent versus 30 per cent male) and younger vets (49 per cent under 35 versus 27 per cent 55 and over) were more likely to experience online abuse.

The most common form of abuse was unfair reviews, while almost half of those who had experienced online abuse had experienced abusive language. One in three vets experienced trolling, and three in ten experienced online harassment.

To help support vets in practice, BVA has published a toolkit with new resources, including practical tips on protecting staff from online abuse, downloadable posters, graphics and a series of blogs. BVA is also working with Vetlife to tackle the impact of abuse on mental health and wellbeing.