Two thousand hamsters in Hong Kong to be culled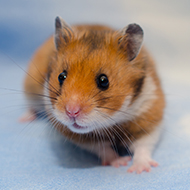 The animals have been ordered to be euthanised following an outbreak of COVID-19.
Authorities in Hong Kong ordered 2,000 hamsters to be culled yesterday (18 January), after 11 hamsters in a pet shop tested positive for COVID-19.

After a worker at the Little Boss pet shop in Causeway Bay tested positive for the Delta variant of the virus, the animals were tested, and officials say that 11 hamsters were found to be infected.

As a result of China's zero-tolerance COVID policy, Hong Kong has ordered approximately 2,000 hamsters to be put down, and has stopped imports and sales of the rodents.

People who have brought a hamster from the Little Boss pet shop since 22 December 2021 have been ordered to hand over their pet to be euthanised.

There has been a backlash from animal rights campaigners and pet owners against the measures. Hong Kong's local Society for the Prevention of Cruelty to Animals called the action 'drastic' in a statement issued on Facebook.

The organisation commented: "The SPCA is shocked and concerned over the recent government announcement on the handling of over 2,000 small animals, which did not take animal welfare and the human-animal bond into consideration.

"The SPCA sincerely hopes the AFCD will not take any further drastic action before reviewing its approach. The SPCA will urgently liaise with the AFCD to discuss alternative approaches.

"We urge pet owners not to panic or abandon their pets."

A petition on change.org, entitled 'Stop the Government from Wrongfully Euthanising Little Boss' Small Pets', has reached over 26,000 signatures so far, with the number of signatories continuing to increase steadily.

Members of a group named 'Hong Kong the Cute Hamster Group' on the Telegram social media app have been contacted by almost 3,000 volunteers willing to temporarily take care of unwanted animals, as reported by reuters.