Tributes to animal rescue worker killed in Tonga tsunami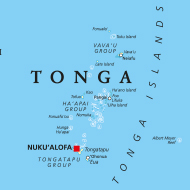 Angela Glover had a "deep love of dogs" and "adored the Tongan people".
Tributes have been paid to a British animal rescue worker who died after being swept away in the Tonga tsunami.

Angela Glover was trying to save her dogs when the devastating wave hit the South Pacific island on Saturday (15 January).

She had been living on the island with her husband, James, and together they had set up the Tonga Animal Welfare Society, which cares for and rehomes stray dogs.

Confirming the news to broadcasters, Angela's brother, Nick Eleni, described her as "a beautiful woman" who "would walk into a room and just light it up with her presence".

"Angela and James loved their life in Tonga and adored the Tongan people. In particular, they loved the Tongan love of family and Tongan culture," he said. "I will miss her and I will think of her every day until the day I die. My mother is just broken at the moment, she is just absolutely shattered."

Mr Eleni added that Angela had a "deep love of dogs", and "the uglier the dog, the more she loved it. She just loved them all, she was totally dedicated to it."

Angela's death is the first known death in the disaster, which was caused by the eruption of the Hunga Tonga-Hunga Haʻapai volcano. The volcano was located 40km north of Tonga's capital, Nuku'alofa, where James and Angela lived.

Mr Eleni said that Angela had been drawn to Tonga through her love of the ocean and childhood wish to swim with whales."She was living her dream. She always wanted to live in a place like Tonga. We are so proud she was able to fulfil that," he said.