Owners urged to prepare pets for New Year's Eve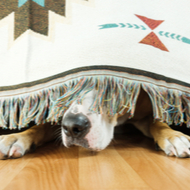 Vets raise concerns over the effect of fireworks on pandemic puppies.
With New Year's Eve fast approaching, vets and animal charities are calling on owners to help prepare their pets for fireworks to help reduce extreme stress and suffering.

The warning from the PDSA, BVA and RSPCA comes amid concerns that owners of 'pandemic puppies' and other new pets may underestimate the effect of fireworks on their animals.

Figures taken from the 2021 PDSA Animal Wellbeing report show that 15 per cent of UK dogs are already showing signs of fear, with previous research by the organisation suggesting that some 40 per cent of dogs are afraid of fireworks.

Furthermore, figures released by the RSPCA, whose new online reporting system launched this year, show that the charity received some 11,000 reports of animals terrified by fireworks, with more expected over the New Year celebrations.

BVA's president Justine Shotton said: "We know many households have welcomed new pets into their families and we are concerned that if proper measures to prepare them or support them on the night are not put into place these animals could become very distressed and not understand what's happening.

"Whether your pet is a new addition or a long-loved member of your family, if you believe they suffer from noise phobia it is important that you contact your vet early to get advice on how to reduce stress."

PDSA veterinary nurse Nina Downing added: "The firework season may be an especially difficult time for pups who were raised during lockdown.

"Thankfully, there are simple steps that can be followed to reduce distress in our pets – the sooner you can start preparing the better. While some pets who are very affected by fireworks can take months of training to make them more comfortable with the bangs and flashes, there are still plenty of things you can do now to help."

To help pet owners prepare their pets for the New Year's celebrations, the BVA and PDSA are reminding owners to set up hideaways for their pets, create 'calm vibes' with a special playlist and to speak to experts, such as vets or professional behaviour therapists, as early as possible.

In another effort to help pet owners and animal lovers, the RSPCA recently launched its Bang Out of Order Campaign, which is calling for regulation changes to the way fireworks are used.

RSPCA campaigns manager Carrie Stones said: "We'd like to see a restriction in use to specific traditional dates - not the days and weeks either side of them - a reduction in noise levels, public fireworks displays to be licensed and private firework boxes to be labelled with noise levels so people can choose low noise fireworks.

"We know from the response to this well-established campaign that the vast majority of the public are behind us on this issue - we would encourage anyone who wants to do their bit to email their MP via our website to make their feelings known."

To date, the animal charity has seen 14,500 people take action and email their MP. A further 67 councils have also requested a toolkit pulled together by the charity, and five councils have put forward their own motions on restrictions.