BVA asks owners to protect pets in winter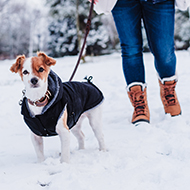 The BVA is offering top tips for avoiding cold weather hazards.
The BVA is reminding pet owners to take extra precautions to protect their pets over the winter months with six top tips to keep pets safe from the cold.

"Many of us will be wrapping up a little warmer over the coming weeks and its important to remember that freezing temperatures and icy conditions also call for extra precautions to protect pets," said BVA president Justine Shotton.

"If you have any concerns about your pet in this cold weather, please consult your local vet for advice."

The BVA's top tips for pet owners to keep pets safe in the cold weather are as follows:

• Provide a warm, draught-free shelter, and for outdoor pets, ensure that the enclosure is in a sheltered position and at least 10cm off the ground.
• Take precautions such as coats during and after walks, and wipe down dog's paws and stomachs once home to remove ice or salt, and regularly check for cracks in paw-pads.
• Avoid antifreeze poisoning by wiping your pet's paws after they have been outside, and store and use antifreeze products carefully.
• Take care near frozen bodies of water, do not let your pet off the lead near them.
• Keep the temperature of rabbit homes between 10 and 20 degrees celsius and the temperature of guinea pig homes between five and 20 degrees celsius.
• Provide extra bedding for rabbits and guinea pigs, and cover outdoor enclosures with an old duvet, blanket or tarpaulin. Consider moving them inside to a well-ventilated space if the weather becomes particularly severe.