Suffolk boy wins prestigious Kennel Club Award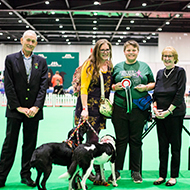 Lewis Steven Garstang was presented with the award for personal achievement in dog training.

A 12 year old boy from Suffolk has won the Young Kennel Club (YKC) Young Person of the Year Award at Discover Dogs.

Lewis Steven Garstang, from Haverhill, took on the training and running of his father's dogs in agility after his father sadly passed away in 2018.
Rosie and Willow, two rescue dogs with vastly different temperaments, have been trained by Lewis, and he has built a significant bond with both of them.

The award, given annually to one young person who has done notable work in dog activities, such as volunteering and fundraising for dog charities, organising dog activities in their local area, or helping others through training and mentoring, is presented by Ed and Cindy McAlpine in memory of their late son Shaun, who had achieved success as a dog handler.

Vanessa McAlpine, events and youth development executive at The Kennel Club, commented on the award: "Congratulations to Lewis for winning this year's YKC Young Person of the Year award. He is a well-deserved winner and is a real inspiration to many other young dog lovers around the UK.

"Well done to our other nine finalists and to all of our other YKC members who were nominated this year. They truly deserve the recognition for all of their hard work, time and dedication that they put into helping the lives of dogs."
Image (C) The Kennel Club