Defra warns public of 'petfishing' dangers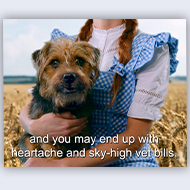 A Christmas-themed video has been released to help owners identify signs.
Defra is warning the public about the dangers of 'petfishing' practices ahead of the increased demand for pets over the Christmas period.

Today (18 November), Defra has launched its Christmas Petfished campaign, which warns potential pet owners of deceitful low-welfare sellers, who breed and keep animals in bad conditions for financial gain.

A recent BVA and BVNA survey discovered that almost two thirds (68 per cent) of pet owners were unaware that the clinical and behavioural signs of their pet may be linked to low welfare breeding practices.

Christine Middlemiss, chief veterinary officer, commented: "Christmas can be a difficult time to settle a pet into a new home and it's vitally important that people not only research the breed of animal they want, but also the person selling it to them.

"Puppies and kittens bred in low-welfare conditions can often be separated from their mother too soon which can lead to severe health and behavioural problems, heartache and high vet bills for their new family.

"We urge people to remain vigilant and to always thoroughly research pet sellers before getting in touch."

Defra is encouraging the public to use the acronym S.P.O.T to notice vital warning signs when researching sellers:

• Seller – Put the seller's name and details into a search engine, and avoid those with multiple adverts
• Parent – Ensure that you see puppies and kittens in their home with their mothe
• Old enough – Check that puppies and kittens are at least eight weeks old before taking them home
• Treatment – Ask to see the animal's health records, and avoid any sellers who can't provide them.

The campaign features a YouTube video, titled 'Buying a pet this Christmas?.. Don't get petfished!', which features talking animals explaining what petfishing is, and why it's bad. The video encourages potential pet owners to search 'get your pet safely' for more information on what to do before contacting a seller.