MMI and BVNA collaborate on anti-bullying webinar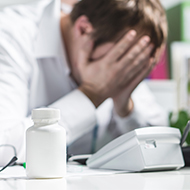 The webinar will take place during Anti-Bullying Week 2021.
The RCVS' Mind Matters Initiative (MMI), alongside the British Veterinary Nursing Association (BVNA) to create a webinar focusing on tackling incivility and bullying in the veterinary workplace.

Entitled, 'Why behaviour matters: what VNs/SVNs can do when faced with incivility and bullying', the hour-long webinar comes after a recent MMI survey discovered that 96 per cent of student veterinary nurses and recent nursing graduates said that they felt that bullying was a serious problem in the professions.

Taking place on Thursday 18 November at 7.30pm, the webinar will see Helen Silver-MacMahon, senior trainer at VetLed, and Nicky Ackerley from the BVNA Members Advisory Service talk attendees through topics related to bullying in the profession.

Items discussed in the webinar will include the extent of bullying in the professions, how VNs can access support if they are being bullied, and different techniques people can use to protect their wellbeing in difficult situations.

Mind Matters Initiative manager Lisa Quigley commented on the upcoming webinar: "Bullying has no place in the veterinary professions.

"Each one of us has a role to play in calling out and addressing this unacceptable behaviour wherever it occurs.

"Our upcoming webinar is just the start of what I am sure will be an extremely fulfilling and positive collaboration with BVNA, who are as determined to address bullying in the workplace as we are.

"I would encourage everyone who has been affected by workplace bullying or wants to find out how to become a better ally to their colleagues who have experienced it in practice to attend our upcoming webinar and look out for further information on the training in the new year."

Alex Taylor, BVNA president, added: "Bullying and incivility are too commonplace in the veterinary profession, which is why more awareness and action needs to be taken to tackle these issues.

"The BVNA's collaboration with the RCVS MMI team and the BVNA members' advisory service will help support those affected by bullying and provide guidance on where to look for support, as well as what action they can take if they feel they are being bullied or experience incivility in the workplace.

"I am really pleased that this serious, but important issue is at last being talked about, and I have no doubt that the support and advice given during Anti-Bullying Week and next year's training sessions will be of great benefit to the veterinary nursing profession."

Anyone wishing to attend the webinar can register here.