StreetVet launches charity Christmas cards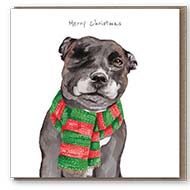 The cards have been designed by Georgi Doig from lil wabbit.

The animal care charity StreetVet has partnered with sustainable paper brand lil wabbit to design an exclusive range of Christmas cards, gift tags and wrapping paper to raise funds for the charity's work with pets and owners experiencing homelessness.

StreetVet offers free and accessible vet care to pets belonging to people experiencing homelessness, and has recently launched a hostel accreditation scheme to increase the number of pet friendly hostels across the UK.

The eight Christmas cards, designed and hand painted by Georgu Doig, lil wabbit's founder, feature portraits of some of the charity's registered patients, including Belle, a dog who suffered life-threatening injuries after being hit by a train. After receiving support and veterinary care from StreetVet, Belle fully recovered and was reunited with her owner.

StreetVet co-founder and clinical director Jade Statt commented on the collaboration: ''We completely adore Georgi's designs, they tell the story of our clients in such a warm way and we hope people fall in love with them as much as we did.

"Having the support of lil wabbit's sales will mean we can help more clients this winter, one of the toughest periods for those experiencing homelessness, so we are incredibly grateful."

Georgi Doig, lil wabbit founder, added: "We are thrilled to be able to support such an amazing cause over this Christmas period. I have really enjoyed having the opportunity to paint each animal and learn about their unique stories, and I hope the sales of the cards and tags can make a real contribution to the vital work StreetVet do."

Of the sales made, 50 per cent of the proceeds will go to StreetVet, with one bundle of cards and a variety pack of gift tags making enough to keep one pet free from fleas and worms. Each card features a hand-painted portrait of one of StreetVet's patients, with information about each pet printed on the back of the cards.

The StreetVet x lil wabbit collection is available online at lil.wabbit.co.uk, Etsy, and in 15 shops across the country including Kapada Vintage in Swindon, Yard Market in Godalming and Hisbe Supermarkets in Sussex.
Image (c) lil wabbit