BVA and BVNA renew strategic partnership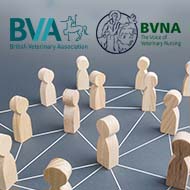 Associations sign a new memorandum of understanding at BVNA Congress.
The BVA and the BVNA have signed a new memorandum of understanding (MOU) reaffirming their commitment to collaborative working.

BVA President Justine Shotton and then-BVNA President Jo Oakden renewed the Associations' strategic alliance at the BVNA Congress on Saturday (2 October).

The BVA and BVNA have worked closely on an array of shared priorities since signing the first MOU in 2017. Among them include the Vet Futures and VN Futures projects and supporting the veterinary team through the Covid-19 pandemic.

Under the new MOU, BVA and BVNA will continue to work together to strengthen the representation of the views of vets, vet nurses, the media, policymakers, the general public and the RCVS. The Associations have also agreed to identify opportunities for joint campaigns and member engagement activities in mutually beneficial areas of interest.

"It has been a difficult 18 months for the profession, and new challenges keep being presented to us," commented Jo Oakden. "This is why it is so important we collaborate and support one another.

"We are one team within this profession. It gives me great pleasure to sign the MOU with BVA, ensuring our close working relationship for the next three years. Together, our voice is stronger."

Justine Shotton added: "This is a challenging time for everyone in the veterinary family. It has never been more vital for us all to work together to achieve the best possible outcomes for animal health, welfare, public health and our professions. We have already achieved so much more working in unison over the last three years, and I am delighted that we will continue to provide one strong veterinary voice on key issues for the veterinary team.

She added that the memorandum between BVA and BVNA is agreed for a further three years and will subject to regular reviews.