Wales' first vet students begin studies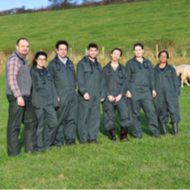 The five year degree is taught by Aberystwyth University and the RVC.

Wales' first student veterinary students have begun their studies at Aberystwyth University.

Beginning on Monday 20 September, students began a five year degree in Veterinary Science, delivered jointly by Aberystwyth University and the Royal Veterinary College (RVC).

The students will spend two years studying at Aberystwyth, followed by three years at the RVC's Hawkshead Campus in Hertfordshire.

Professor Darrell Abernethy, head of Aberystwyth's School of Veterinary Science, commented: "Today is an important and exciting new chapter in the history of Aberystwyth University and Wales.

"After so much hard work by staff at both Aberystwyth University and the Royal Veterinary College in preparing for the start of the course, it's a great feeling for us all to see our first students arrive."

Covering a wide range of animals, from domestic pets to farm animals, learners will also have the opportunity to study certain areas of the degree in welsh.
Vice-chancellor of Aberystwyth University, Professor Elizabeth Treasure, commented on the importance of students studying veterinary science in Wales: "This is a day of great celebration and optimism here in Aberystwyth.
"Agriculture and its related industries play such an important part in the Welsh economy and it is incumbent on us as universities to provide the people and skills that will contribute to ensuring they thrive for years to come.
"The School of Veterinary Science adds a vitally important new piece to the jigsaw, one that will build resilience in the rural economy through education and research at a time of great potential change and challenges."

Principal of the RVC, Professor Stuart Reid CBE, added: "We are delighted to see this exciting initiative come to fruition and join with our colleagues in welcoming the new students to Aberystwyth.

"We look forward to offering them an equally warm welcome when they arrive at the RVC in two years' time for the second part of our new joint veterinary degree."